All about Shantung-Care & Use

Ever wonder what is the fabric of your special occasion dress? There is a great chance it might be Shantung. Most people probably have never heard of the fabric but it is used in many formal wear items due to its heavy weight and durable construction. The  fabric is most often nubby in texture. It is sometimes mistaken for Dupioni but has a more matte finish, less nubby than Dupioni.  Although the two are very similar, if you prefer a smoother fabric you should choose Shantung for your dresses versus Dupioni.   There are many different commercially sold variations of this fabric and listed below are just a few. Follow our series on fabric types by reading Satin the Fabric of Royalty
Shantung Types:
Taffeta: This is a polyester material from which the natural gum is not removed after weaving. It has the crispness of a Taffeta that is no made from Shantung.
Nylon: Made with Nylon with a Nylon filament warp and a spun nylon yarn in the filling. This fabric has a peculiar type of stiffness.
Rayon: Made with a filament acetate yarn in the warp and spun rayon in the filling.
Changeable: The warp yarns are dyed one color, the filing yarns another. Sometimes the slub filing is dyed several colors. Creates a changeable color surfaces.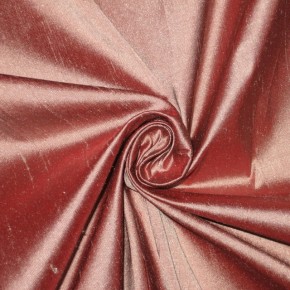 Figure Weaves: A design that may be woven fabric to produce a figure on a shantung background.
Shantung Uses 
As mentioned before shantung be used in many formal pieces of attire such as Men's suits and jackets, and any thing from Women's  formal Wedding Dresses to Girls Flower Girl Dresses. Another good use for Shantung is for draperies due to its visible sheen.
Properties and History 
Shantung is named for the part of China from which it originates. Dupioni is named for the part of Italy that the fabric originated.. Both are traditionally made from silk, but cotton or any synthetic fibers such as polyester is now commonly used in production of the fabrics. We hope that you enjoyed this article about Shantung.