Baby Shower Gift Baskets
Giving personalized baby shower gift baskets is a caring and unique way to share in the joy of new motherhood. Baby shower gift baskets can be filled with a wild variety of items or can adhere to a specific theme.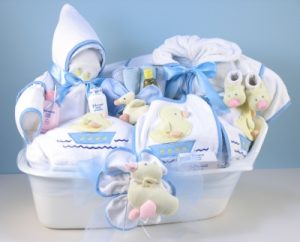 How to make a Baby Shower Gift Baskets
Once you have found a gift basket that you like begin to decorate the basket with pastel colored ribbons. For a baby bath-time basket line the basket with baby bath towels instead of tissue paper. Add baby bath products such as baby shampoo, wash cloths, baby lotion, baby powder, wash cloth puppets, a rubber duckie and so on. A sleep-time baby shower gift basket can be filled with a soft blanket, baby-safe stuffed animals, baby monitor, crib sheets, a soothing music collection, and a musical mobile. A breastfeeding gift basket could include a breast pump, handy meal plans for nursing moms, a nursing cover and a nursing pillow.
Other Baby Shower Gift Baskets Ideas
Another baby shower gift basket idea can be based on baby clothing. No baby can ever have enough clothes.  You might offer some starter items that you think the mother would like and that would be comfortable for the baby as well. Vitamins Baby Clothing has several multiple-piece sets that contain matching items that new mothers need. I just went to a baby shower where the parents wanted to be surprised by the baby's gender. A children's boutique gift certificate allows the mother to pick up something special once the baby is born…a gift that keeps on giving.
Visit www.treasureboxkids.com for your newborn and infant clothing needs.  Leave us comments about interesting baby shower gift baskets,gift basket themes you have used.