Baby Shower Ideas: Nursery Rhyme Shower
Are you having a hard time coming up with good baby shower ideas? Why not throw a nursery rhyme themed baby shower. Grab a well-loved book of nursery rhymes and start planning. You'll soon find yourself with plenty of ideas for a great baby shower.
Play games such as Finish the Baby Rhyme, found on this great list of baby shower games.  You could also play Nursery Rhyme Charades. Have each guest draw a name of a nursery rhyme out of a bag and act it out. This is sure to bring lots of laughter! Another fun idea would be to fill a jar with cotton balls and have the guest guess how many bags of wool "Baa Baa Black Sheep" has. The person who guesses the closest to the correct number would win a prize.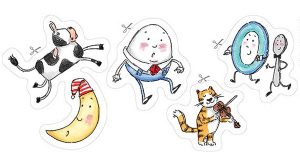 There are many great baby shower ideas you could use for decorations. Use pages from old nursery rhyme books. You could make a garland, a table runner, wall decorations or small framed table decorations with these pages. Borrow stuffed animals that are related to nursery rhymes, such as lambs, ducks or geese. Moons, stars, and flowers would also all complement the theme. Use an old nursery rhyme book as a guest book. Have each guest sign a different page and present it to the guest of honor. This will be a special memento of her baby shower.
More baby shower ideas for your Nursery Rhyme Shower:
You can easily serve food that relates to nursery rhymes. Serve "Humpty Dumpty" deviled eggs, "The Muffin Man's" muffins, or cheese chunks for "Little Miss Muffet's curds and whey". You could serve star-shaped cookies to represent "Twinkle, Twinkle Little Star" and moon-shaped cookies to represent "Hey Diddle, Diddle".  For a drink, serve hot tea to represent "Polly Put the Kettle On".
As favors, send your guest home with flower seeds or small potted flowers. Attach a tag with "Mary, Mary Quite Contrary" printed on it. Another option for favors or prizes would be tapered candles with tag that has "Jack Be Nimble" printed on it.
Please share your baby shower ideas for a nursery rhyme shower in the comment section.