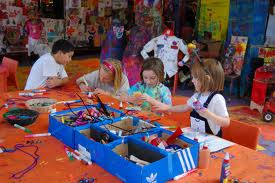 If you're looking for some great birthday party ideas that both girls and boys would love, why not plan an art party. This party doesn't have to be complicated or expensive and I guarantee all the kids will love it.
Any type of art activity would work great at this party. One birthday idea would be to give the kids fabric paint or fabric markers and let them decorate a plain t-shirt or even a tote bag, such as these personalized totes.
Reserve one area of wall space for mural painting. Tape up large sheets or paper or use a roll of brown paper wrapping paper. Have the children work together to make a mural. The kids will enjoy it and this would be a perfect activity to work on while waiting for the guests to arrive.
Here is a short five minute video from 5 minute life Videopedia on how to host a children's art party.
Birthday Party Ideas- How to Host a Childrens Art Party
More Birthday Party Ideas-Art Party
Another birthday idea that would be fun for this party would be collaborative drawings. Have the kids sit around a table with a piece of paper and crayons. Set a time for 15 seconds and have them start drawing. When the time is up, have them pass the paper to the right. Set the timer again and have them start drawing. Keep passing the papers until everyone has had a chance to add something to each piece of paper. I bet you'll have some fun and crazy drawings!
For decorations, I would have the birthday girl or boy color, draw and paint pictures. You can then hang these up gallery style.  Print up a sign that says "__________'s Art Gallery" filling in your child's name. Focus on primary colors if you use balloons or streamers. Also, use primary colors for plates, napkins and silverware.
Your refreshments can be simple. I would make some simple cupcakes and use different colors of icing on them.  Arrange them on a plate to look like a painter's palette. Another fun birthday idea would be to have a supply of sugar cookies and icing. Let the kids showcase their artistic talent by decorating their own cookies.
The party favors don't have to be expensive. I would recommend buying small notebooks or sketch pads and pairing them with crayons, colored pencils or even watercolors. Send this home with the guests along with one of the collaborative drawings.
Do you have any birthday party ideas for an art party?