Birthday Party Ideas of the Stars that Won't Break the Bank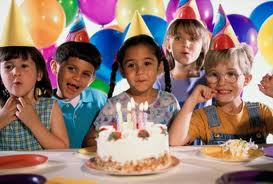 Birthday Party ideas are always easier to come up with when it's for someone else's child.  They are also easy to come up with when there's an unlimited budget!  Celebrities seem to have no problem coming up with virtual theme parks in their backyard when it's their child's birthday, but not all of us can spend $300K on our child's birthday like Tom Cruise and Katie Holmes.  The rest of us have to find unique birthday party ideas that don't involve Ringling Brothers or gelato flown in from Italy.  In fact, the closest most of us come to that would be a day at Chuck E. Cheese with pizza.  Still, you can have a circus-themed party or even a make-your-own gelato party that would be just as much fun for your child as one of the lavish Hollywood events.  After all, your child can't tell the difference between a cake that you baked in your own kitchen and a cake made by a chef in France—or, at least, we hope they can't.
Here are a few Hollywood kids birthday party ideas to get you started…
Suri Cruise
For Suri's second birthday, Tom and Katie spent a whopping $100,000 to have a butterfly themed event.  The cake was a four-tiered butterfly shaped cake that set the Cruises back around $5K—that's right, five thousand dollars for a cake.  They then ordered tiny versions of the same cake for their guests to eat.  Now, I don't want to guess about your budget, but while I adore themed birthday party ideas like a "butterfly garden birthday party" (or a  bee party like the ones we wrote about in our July blog) I also adore not wasting money.  If butterflies are your child's idea of wonderful you can still have Suri's butterfly cake and mini-cakes for your party guests just by taking a trip to your local crafts store (or shop online).  You can purchase butterfly shaped cake pans, as well as, butterfly shaped sandwich cutters that you can use on a sheet cake to make mini-butterfly cakes for the guests.
Bluebell Halliwell
When Spice Girl Geri Halliwell decided to throw her daughter a birthday party she decided upon an Alice in Wonderland theme.  Being a celebrity she went a bit out there by bringing in white rabbits and things of that nature, but from the pictures of the party it still looked like an awesome time.  While an Alice in Wonderland birthday party isn't necessarily one of the more unique birthday party ideas on the planet, it is still a fun one that opens up a lot of possibilities.  You can have a Mad Hatter's tea party with lopsided cake and audacious tea pots.  The kids could all wear mismatched clothing or funny hats.  They could even come as a character from Alice in Wonderland!
Kingston Rossdale
Kingston Rossdale's parents Gwen Stefani and Gavin Rossdale spent $15,000 dollars on his fourth birthday party which utilized a carnival theme.  They had bounce houses, cotton candy machines, lemonade stands, face painting, clowns—basically, "The Works".  Now, depending upon the budget you want to set this can be reproduced in smaller scale with a trip to your local rental center and party store.  Bounce houses, cotton candy machines, and face painting kits are easily accessible items these days and the always loved by children.
Bigger is not always better—especially when you are dealing with younger children.  Your child of three won't know the difference between your husband dressed as the Mad Hatter or Johnny Depp.  To a child of five your butterfly cake probably tastes just as good, if not better, than one flown in from France.
If any of you have a cheaper version of a celebrity birthday party drop us a comment, but until then I hope that you got some mileage out of these celebrity birthday party ideas.