Bling Baby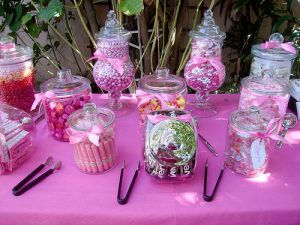 Surround mom with baby bling to make her feel special at her baby shower. Baby bling is fast becoming a new favorite baby shower theme at many recent baby showers. How do you create a bling baby shower theme? Adhesive rhinestones and other sparkly plastic gems can be purchased at the craft store and used to decorate vases and flower pots that serve as table decorations. Anything that is brightly colored or glitters and sparkles is a great way to decorate. Colorful candies in jars, strands of inexpensive Mardi Gras beads, tiaras, colorful mylar balloons and confetti…anything shiny is a perfect decoration choice.
Bling Baby Favors
Peel and stick rhinestones can be added to candy tins or most anything to create bling party favors. Add rhinestones to party bags or small bottles of bubbles.  Tie colorful ribbons around shimmery lip gloss or glitter pens.
Bling Baby Games
Fill a jar with acrylic diamond vase gems and have guests try to "guess the amount of bling". Whoever guesses closest to the correct number wins a fun themed prize – such as shimmery body lotion, an oversize diamond shaped crystal paper weight, or a rhinestone-studded compact! Add glitter to standard baby shower bingo cards  to upgrade them to your baby bling theme.
The baby bling theme adds sparkle and life to modern baby showers. One family expanded the bling theme to "A Star is Born," turning the bling baby shower into a sparkling movie event. Let your glamorous imagination go wild with this theme and share with us how it worked for you!
Visit www.treasureboxkids.com for children's clothing and special outfits.Look through our archived blog posts for baby shower gift ideas, craft ideas, birthday party ideas, children's clothing tips and kids activities, and other Bling Baby ideas.