Cat in the Hat Birthday Party
Toddlers love Dr. Suess stories and The Cat in the Hat is one of their favorites. Anything Cat in the Hat goes!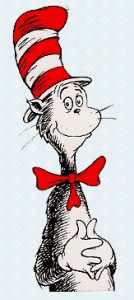 Cat in the Hat Birthday Party Decorations:
Decorate with red and white balloons. Print out pictures of the Cat in the Hat or Thing 1 and Thing 2. On the birthday party table use a white table cloth and make red crepe paper bow ties to decorate around the edge. A multiple layer cake alternating red and white frosting on a round, black cardboard base is a simple Cat in the Hat birthday cake. Set Dr Suess books around the room. The books can double as decorations and activities.
Cat in the Hat Birthday Party Games and Activities:
The Cat in the Hat had many games involving balancing. He would balance things on his head, in his hands and on his feet. Use this aspect of the story to create balancing games of your own. Start with something flat and easy like a light book, then when the guest reaches the other side of the room and a new object like a paper plate, then a cup, then a plastic fork or a small ball. The one who can balance the most items wins!
Another Cat in the Hat game is a fish toss. The fish was always trying to stay in the bowl while the Cat was playing his games. Use decorated bean bags as "fish" to try to toss into a bowl.
Reading the Cat in the Hat story to the children as it gets closer for the children to go home can calm down a bit before the parents pick them up.
Visit www.treasureboxkids.com to find clothing for your child's special day. We welcome comments about your child's birthday party experience. We always have new birthday party ideas, girls birthday dress, and gift outfits to share with our readers, like the Cat in the Hat Birthday Party.