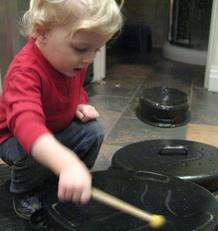 When the family is gathered, it's time to have some fun with these musical Christmas kids games. There are many great Christmas activities for kids and families that involve Christmas carols. You can sing Christmas carols as a group or go caroling around town. You can even read books together about different Christmas songs. We have a great resource about storytime for you to read, if you're  looking for tips on enhancing your read-aloud experiences.
But, if you're looking to play a few games and have a lot of fun, here are a couple of good Christmas kids games!
Guess the Lyric: Guess the Lyric is a fun trivia game that you can make yourself. All you need to make this is a pile of index cards. On each card, write a portion of the lyrics of a Christmas carol. You can make these as easy or as hard as you need. If you are playing with a mixed-age group, you may want to make one set of cards for the kids and one for the adults. Here are a few examples for your cards: "Bells on bob-tail ring/Making spirits bright" Answer: Jingle Bells. "He knows if you've been bad or good/So be good for goodness sake!" Answer: Santa Claus is Coming to Town. "In the meadow we can build a snowman/And pretend that he is Parson Brown" Answer: Winter Wonderland. Work in teams or individually and see who knows the most Christmas carols. I can guarantee everyone will have fun! You can find an extensive list of Christmas carols and their lyrics at The Caroling Corner if you need help with making this fun trivia game.
Christmas Carol Pictionary: It's always nice to have Christmas activities for kids that are inexpensive and easy to put together. Christmas Carol Pictionary is one. You'll need several strips of paper, large sheets of paper or a roll of brown paper gift wrap, and several markers. Write the names of several Christmas carols on separate sheets of paper. Fold up the strips and stick them in the bowl. Divide into two teams. The teams will take turns sending one person up to the large sheets of paper  to try and draw the carol that they pull from the bowl. The teammates then have to guess the name of the carol that is being drawn.
Get ready for a lot of laughing while you're enjoying these fun Christmas Kid Games Christmas activities for kids and families!
Please share your favorite fun Christmas kids games your family likes to play.