Floral children's fashion trends have made their way back! We love Earnshaw's magazine because they are always on top of the most current trends in children's wear. Treasure Box Kids envisioned this trend earlier in the season and Earnshaw's mentioned that the floral prints are back and bigger than ever in their June 2017 issue. The popular 1980's style is currently trending. Floral prints are resurfacing on women's clothing, kids clothing (boys and girls), and even on shoes and accessories. To learn more about children's fashion, please read our post Children's Fashion Last 10 Years
Where the Floral Print Originated:
Floral prints date back thousands of years, originating first in Asia, where flowers are an integral part of the culture. Long ago, flowers held deep meaning and symbolism, which people enjoyed incorporating into their clothing. Flowers are known as a universal symbol of femininity, which is prevalent in different cultures and time periods. Over the years we have seen big flower trends such as the "Flower Power" 60s and again in 2014 with the popular floral leggings. Floral prints are diverse and have always been in production… something we don't see changing anytime soon. Trends are usually established in adult clothing and are then adapted into children's wear.

Why Follow Children's Fashion Trends:
Floral prints typically make us think of warm weather and sunny days. Flowers carry a happy connotation and it feels good to wear them, so why not! Florals are all about having fun with fashion and embracing the excitement of summer. The print is versatile – you can find it on everything from casual kids bathing suits to exquisite wedding dresses. The floral theme also makes great accessories that give you more ways to work the flowers into your style. And if you're a girly girl at heart, wearing florals is a perfect way to show your feminine side.
Floral Children's Fashion Trends for Clothing:
Earnshaw's said it themselves, "Floral and graphic prints are an undeniable tool in stimulating children's imagination and creativity". How cool is that? We are expecting to see lots of daisies, hydrangeas, hibiscus and roses on the racks this season for girls and even boys. Floral prints come in a variety of styles, colors, shapes, and designs. Does your little girl have a favorite flower? Look for a dress with her flower print on it. Kids should love what they are wearing and this is a great way to ensure that. Experts remind us to keep an eye on the size of the print when choosing a dress for your little girl. Smaller girls might avoid larger prints as they could engulf a petite frame.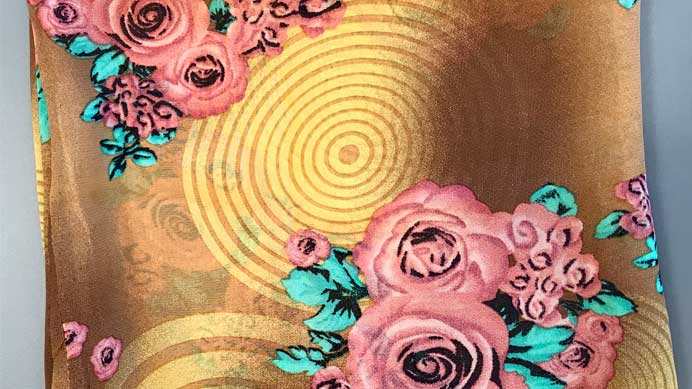 Five Floral Print Fashion Trend Tips:
Choose lightweight fabrics that breathe well this summer. Cotton, linen, rayon, and chiffon are just a few that work well.

Feel free to mix patterns! Just make sure there's one color that ties both prints together. Black and navy are great options.

To create a slimming illusion and draw the eye in, explore dresses with flowers gathering down the center.

Be bold! Summer is your excuse to wear bright, vivid colors. If your wardrobe is filled with mostly dark solids, adding a floral print can be just what you need to match your outfit with your summer state of mind.

Floral accessories can add a hint of femininity to your look. Try flower inspired sandals, sunglasses with flowers printed on them, or shade your face with a floral printed sun hat. You could even tie one of TBK's lightweight floral infinity scarfs around your hair to keep you cool.
Look around and find your favorite floral prints to rock this summer. If you're looking for your little girl, check out the TBK website for our own floral printed dresses and scarves. This is one of our favorite children's fashion trends and it will soon be yours too!