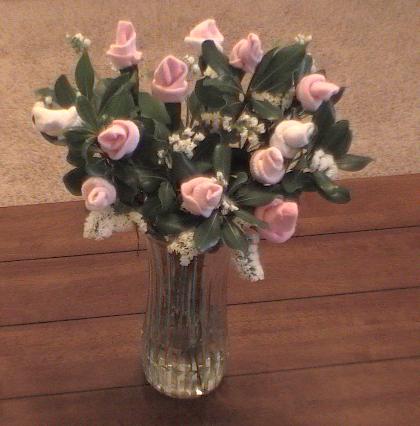 Baby Bouquet
A baby bouquet makes for a beautiful baby shower centerpiece as well as a useful gift for the mother to be. This baby bouquet is simple to make and versatile enough to fit any baby shower themes. Baby socks are rolled and attached to green floral wire and wrapped with green floral tape to make roses for a beautiful baby sock bouquet. You will need 6 pairs of baby socks to make a dozen roses, a vase, green floral wire, green floral tape and additional greenery.
Baby Sock Bouquet Instructions:
1. Place one sock in front of you with the toe pointing to your left. Work on a flat surface to roll    the baby socks.
2. Roll the sock up. At the toe, begin to roll the sock. Roll it to the right, until you get to the cuff, or the very top part of the sock. Make sure to roll each sock tightly, so it stays in place and doesn't fall apart.
3. Place your thumbs on the roll to hold it in place. Use your fingers to pull the cuff up slightly over the bottom part of rolled portion of the sock. The cuff will hold the rose in place.
4. To make the shape of a rose, find the toe of the baby socks and pull it up a little bit.
5. Insert a 12 inch long piece of green floral wire deep into the opening underneath the bottom of the rose.
6. Use green floral tape to wrap the rose and wire in place. Be sure to wrap the tape several times to keep the sock and wire securely together. Continue wrapping the base of the rose with the floral tape. Continue down the wire stem to the bottom and cut the tape. Repeat this process to make as many roses as you want for the baby sock bouquet.
7. Place the roses into a vase; add additional greenery, other floral pieces, baby's breath and/or other small flowers to add volume to the baby sock bouquet.
Visit www.treasureboxkids.com for adorable baby outfits or onesies. Look through our archived blog posts for more baby shower ideas, activities, crafts, tips and birthday party ideas.