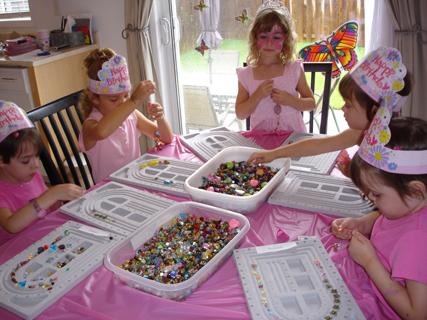 Bead Crafts
Use bead crafts to make these adorable bead buddies. Bead crafts can be used to make necklaces, bracelets, key chains, zipper pulls or backpack accessories. Bead buddies are unique characters made from different sized beads and charms. Bead buddies are wearable fun characters that can be made as a rainy day craft or as a birthday party activity. Vary the bead patterns to make unique bead buddy designs.
To make one, first fold a 10-inch piece of 24-gauge wire in half, twisting a loop in the middle for a hanger. Thread beads and charms onto both sections at the same time for a head and body, then separate the sections and add more beads and charms to each one to create the legs. Trim the ends, if needed, then curl them with jewelry pliers to keep the beads in place. For arms, twist a 4-inch piece of wire around the body, just below the head. Thread on beads, then trim and curl the wire ends. Finally, string the bead buddy onto a chain for a necklace.
Use different sized beads for head, torso, arms and legs to create a different bead buddy design.
Visit www.treasureboxkids.com for children's clothing and more kids craft ideas. Be sure to look through our archived blog posts for more activities, crafts, tips and birthday party ideas.