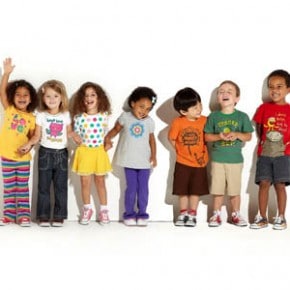 Ten years ago children's fashion was much different then it is now.  Kids Clothing is like the rest of fashion in that it is influenced heavily by the events that happen in the world and also by the music that is popular at the time. In the last ten years we have seen an economic crash and the way we live, work and communicate  change dramatically. To see the current SS2015 girls fashion trends read our post Girl's Spring 2015 Fashion Trends.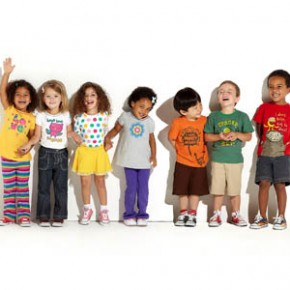 Image found on prezi.com
Children's Fashion- Trends 10 Years Ago
Ten years ago most kids designers portfolios included a more urban feel. Hip Hop music was in full popularity and Kids Fashion was heavily influenced by Baby Phat, Phatt Farm and Ed Hardy with skulls, skateboards, rock n' roll insignia, t-shirts, hoodies and sweatsuits all popular for boys.
Girls were wearing more ruffles, peasant tops, layered tops and pants. The 1960's was a heavy influence on girls clothing. Flouncy pants and halter tops were popular as well as big patterns and mixed fabrics. The "cutesy girl" look was popular.
Children's Fashion-Trending Now
Today's fashion for boys has changed and is now more a classic preppy look. More structured shirts, baseball jackets and cap hats with sweaters are featured. Looks from the 1950's and 1980's are influencing boys fashion as well as the skateboarding and hip hop cultures are influencing boys fashion. Hip Hop has a lessened effect on Boys Fashion then it had in the last decade. It is more of an assortment of styles.
Girls today are looking towards soft fabrics and a more sophisticated look. More like that of a style that an adult would wear. Cute is still in as it will always be but dressing too cutesy with massive ruffles is out. Tops are more loose flowing with a Gypsy Boho Chic look of the 80's and 90's. Novelty tees are still popular and comfort is in! Little girls are dressing more sophisticated and are influenced by the young children of celebrities.
Treasure Box Kids looked to Kids World Magazine and Wikipedia for additional inspiration while writing this article. In the next ten years one thing is for sure, kids fashion will change again. Treasure Box Kids started our company back in 2008 and we have seen many trends come and go throughout the years in children's fashion.