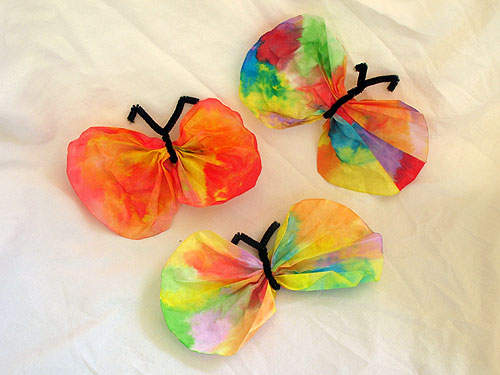 Butterfly Decor
Little girls love butterfly decor. This simple butterfly decor craft idea is easily tailored to your child's favorite colors and can be modified for various uses. For a more vibrant butterfly decoration, be sure to paint all white areas with color. Let the butterfly decoration fly by tying a piece of fishing line or yarn around the neck and suspend from the ceiling.
Visit www.treasureboxkids.com for children's clothing and ideas. Be sure to look through our archived blog posts for more activities, crafts, tips and birthday party ideas.
What you need for the coffee filter crafts:
Paper coffee filter
1/2 black pipe cleaner stem
Water color paints
Paint brush and water
How to make butterfly coffee filter crafts:
Flatten the coffee filter and place it on a plate or newspaper to paint as the water will soak through. Set aside on paper towels to dry.
Fold the coffee filter accordion style, with 1/2″ pleats.
Fold the pipe cleaner in half and twist the stem around the filter to secure it in place.
Bend the tips of the pipe clean stems over about 1/4″ to create the antennae.
Fan out the butterfly wings.
If desired, hand with yarn or fishing line.