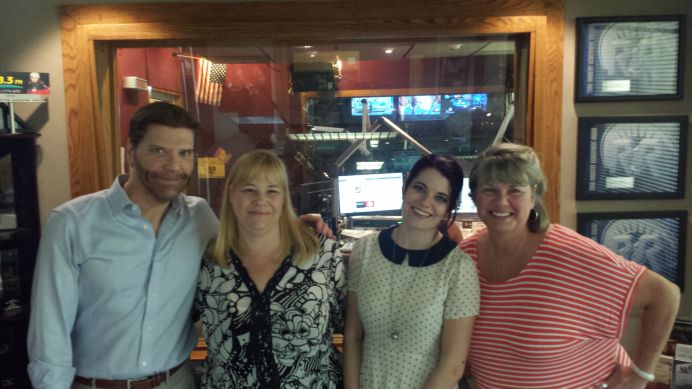 We strive to Make A Difference in the world every day through our clothing lines.  I was recently featured on Making A Difference, an afternoon radio segment hosted by Suzanne and Shadow at Z88.3 in Orlando, Florida. It served as a good learning experience for Aly Lewis, who has been working with Treasure Box Kids as the public relations liaison intern for Treasure Box Kids. Making a Difference is a short afternoon segment that airs every Tuesday at 4:55 P.M. The segment features local business people or volunteers that are truly making a difference in the community and in the world. It was an honor to be featured in one of the segments this past month. You can listen to my interview here:
Higher viewing quality available by clicking the settings symbol in the video and changing the Quality to HD.
You can also learn more about what TBK is doing to make a difference at Little Maisha Kids Clothes Changing Lives.
Sharing How We Make A Difference
Being able to share what my company does to Make A Difference on this segment  was a unique experience. It was a fun and exciting thing to be able to share my experience as well as my passion for helping people with my fellow listeners of Z88.3. As heard in the interview, I touched on the efforts that Treasure Box Kids as a company is making in the local community and the great strides that we have made in Kenya to help women who are in need.
The process was so much fun and went by smoothly! Aly and I arrived at the studio at 1:00 P.M. We were warmly greeted by different staff members, all as friendly as the last. The reception room was very comfortable and pleasant. When Suzanne and Shadow were ready for us, we followed them back into one of their recording studios. They showed a great passion for the good of the community and also showed genuine interest in the things I was saying. It was heartwarming to see the kind of a family setting I've imagined while listening to their radio station.
Make A Difference With Z88.3
I have been a regular listener of Z88.3 for a few years now. I spend a great deal of time driving in high-stress traffic situations on my commute in the mornings and evenings. This radio station helps make the commute less stressful, through their music that is very calming, uplifting, and inspirational. The hosts remind me with their encouraging words that I am not alone on this journey of life.
It was a blessing to have been a part of the Z88.3 family during my interview experience. I can't thank Suzanne and Shadow enough for giving me the opportunity to share my ability to Make A Difference on this afternoon segment!