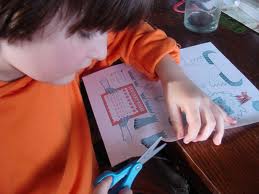 Kids Craft- Making Calendars
With the new year here, I've got a fun kids craft for working on during winter break. Let's get ready for the new year by making a homemade kids calendar. You can use your calendar to showcase artwork or even your memories, like these kids scrapbook pages.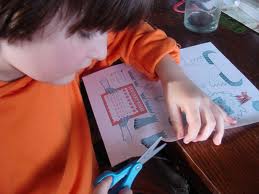 Supplies needed for Kids Craft Calendar:
Calendar template (You can find several 2012 calendar templates at this link)
Construction paper, printer paper, or drawing paper
3 small binder rings
Three-hole punch
Glue or tape
Choose one of the calendar templates and print out. You will want each month on a separate sheet of paper.  Add in any special holidays, birthdays, or special occasions that you would like to remember.
Now, it's time for the fun part of this kids craft! Draw pictures to correspond with each month. For example, draw a snowman for January, hearts for February, or spring flowers for May. Make sure your child signs their name at the bottom just like a real artist would do. Another option is to make collages for each month using family pictures or magazine pictures. It would be fun to use Christmas pictures for December and Halloween pictures for October in this kids craft.
If you're doing this kids craft with a younger child or even a toddler, you could have fun with handprints. Keep things simple by just making handprints in colors to coordinate with the month, such as red for February. Or, you can get a little more creative and turn those handprints into pictures. Make a handprint turkey for November or a handprint ghost for October.
Once you have your artwork completed, it's time to assemble your kids calendars. Try to visualize a store-bought calendar and how it's put together. Attach the January template to the back of the February artwork, the February template to the back of the March artwork, etc. When the calendar is hanging, you will want your month's artwork at the top and the calendar template hanging at the bottom. After your calendar pages are in order, use your three-hole punch on all the pages. Attach them together using the small binder rings.
Kids Craft Fun
Do you have any fun artwork suggestions to put on a calendar for kids?