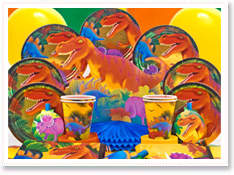 Dinosaur Birthday
D is for Dinosaur Birthday! Little boys will enjoy their dinosaur birthday as an adventure filled with friends and activities. Decorate the dinosaur party with dinosaur footprints mounted around the room, place plastic and/or plush dinosaurs around the party area. Scatter dinosaur fruit snacks and dinosaur footprints on the dinosaur party tablecloth, and use plastic (dinosaur) eggs for a treasure hunt.
Dinosaur birthday party items are so popular that many inexpensive decorations may be purchased at discount or dollar stores. Visit www.treasureboxkids.com for adorable dinosaur outfits for your toddler to wear at their dinosaur birthday party. Look through our archived blog posts for more kids birthday party ideas, childrens clothing and kids activities.
Dinosaur Birthday Activities
Dinosaur Dig – Fill a small pool with dirt or sand to create the excavation site. Bury heavy plastic dinosaur toys and plastic (dinosaur) eggs. Equip the little paleontologist with a small shovel or soup spoon for the dig, and a paint brush to clean the dirt off of their finds. Enhance this activity with a mysterious tale prior to the dig.
Lost World Obstacle Course – Set up the course in a large room, patio or garage. Make a starting and ending point. An imaginary tar pit or dinosaur swamp with stones made from craft foam sheets, can be navigated by hopping from stone to stone with a small prize at the end.
Pin the horn on the triceratops