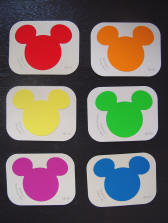 Teach Your Child – Colors
You can teach your child how to learn their colors in a fun and imaginative way. Go to your local paint store or home depot and pick up colorful Disney paint samples with Mickey Mouse heads. Use markers to add letters or numbers or just leave the Disney paint samples as they are.
Teach your child to pick out each of the colors by saying the name of the color as they pick up each Disney paint sample. This inexpensive activity has a number of variations: write the name of the color on each Disney paint sample, mount paint samples on a poster board to create a color matching game, write letters on each paint sample to teach your child small words, or adding numbers to teach your child to count.
Visit www.treasureboxkids.com for children's clothing and special outfits. Look through our archived blog posts for craft ideas, birthday party ideas, children's clothing tips and kid's activities.