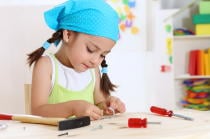 Craft Project
Rainy days require a craft project that keeps kids attention for hours. A craft project that consists of making and decorating salt dough, takes kids through mixing dough, creating shapes, cooking the dough and decorating the final product.
Salt dough uses four ingredients: 3 cups of flour, 1 cup of water, 1 cup of salt, and 2 teaspoons of oil to make one batch. Mix ingredients together into a ball and then use a rolling pin to flatten the salt dough. Use cookie cutters to mold the dough crafts and then bake for 20 minutes at 350 degrees.
When the shapes cool the dough crafts can be decorated with paint or markers, glitter, sequins, etc. Add one part white glue to two parts paint to make the paint shiny and tough for the salt dough shapes.
Visit www.treasureboxkids.com for children's clothing and ideas. Be sure to look through our archived blog posts for more activities, crafts, tips and birthday party ideas.