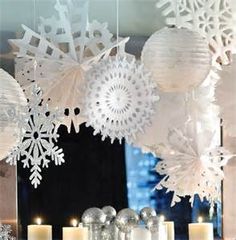 A winter birthday usually means an indoor party, but I have some great birthday party ideas for a lot of winter fun.  With a winter birthday party theme, you can plan on both inside and outside fun. If there is snow on the ground, plan some time for the kids to go sledding or make snowmen. If there is no snow, you can always make some of your own with this Kids Activity: the Beauty of Snowflakes.  You can also do a winter twist on some classic games. Play Pin the Nose on the Snowman or play a beanbag toss game using white beanbags to look like snowballs.
Winter Fun Birthday Party Decorations
This birthday party theme can use simple and inexpensive decorations. Pull out all your snowman decorations from your Christmas boxes. Use the snowmen to decorate the table or other areas and use cotton batting for snow.  Using rope or twine, create a clothes line and hang up winter hats, gloves and mittens. Hang paper snowflakes from the ceiling. Use wintery colors like blue, white, and silver for your plates, napkins, and other paper goods.  All will fit perfectly with this birthday party theme.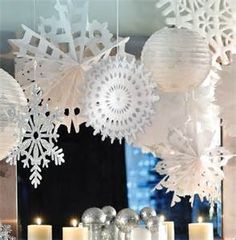 Winter Fun Birthday Party Refreshments
There are many fun birthday party ideas for the refreshments. When the kids come in from the cold, have a hot chocolate bar waiting for them. Serve mugs of hot chocolate with several options for toppings such as: mini marshmallows, whipped cream, cinnamon, sprinkles, and mini chocolate chips. Have peppermint sticks to use for stirring. Serve a cake decorated as a snowman. Make a round cake and frost with white icing. Use candy to make the eyes, nose, and mouth.
Send the kids home with favors that match the birthday party theme.  Fill small bags with instant hot chocolate mix and mini marshmallows. Create a snowman decorating kit using inexpensive items from a craft store or party store. A scarf, large black beads for the eyes, or even large plastic sunglasses would be fun additions.
There are many fun ideas for a Winter Fun birthday party theme. Use your child's favorite winter activities for entertainment with their favorite cold weather foods for refreshments and you can't go wrong!
Share your birthday party ideas for a Winter Fun Birthday Party.