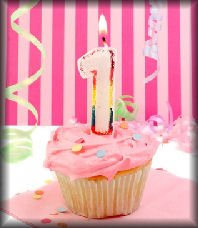 Baby's First Birthday
The time for baby's first birthday has arrived and the celebration is as much for parents as it is for the youngster. Your baby's first birthday is an event where precious memories can be saved for years to come. Plan the first birthday party as a short event (about an hour to an hour and a half), preferably after naptime. If possible, plan the first birthday party in your home or an environment that your baby is comfortable with.
Simple themes for the first birthday party, such as a favorite color, storybook or cartoon character can be the main point of focus for your decorations and activities. Keep the baby's needs in mind when planning for his or her first birthday. Visit www.treasureboxkids.com for adorable baby outfits for your baby to wear at their first birthday. Look through our archived blog posts for more birthday ideas, children's clothing and kid's activities.
Decorations
Decorate with pictures of your baby over the first year of life, including important milestones like crawling and taking the first step.
Cut out large number ones from brightly colored paper to mount on walls
Decorate with colorful balloons and streamers
Activities
Place a colorful blanket on the floor with easy to manipulate toys (busy boxes or play gym) to create a safe baby play area
Place push toys, foam blocks, or cloth tunnels for toddlers to play with
Create a cupcake decorating station for older children and adults