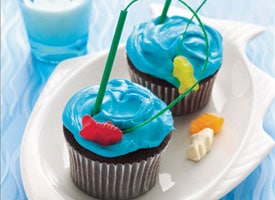 Boys Birthday
When planning a boys birthday why not think of fishing? A boys birthday with a fish theme is cute, versatile and pretty inexpensive to decorate. Decorate the fish party area with blue and green balloons and streamers hung from the ceiling.
Cut fish shapes out of colorful construction paper and attach them to some of the streamers. At the fish party table use a blue tablecloth sprinkled with confetti with cups of gummi worms. Trace a large fish on colored construction paper for fish party placemats. Your fishing birthday party would not be complete without a selection of games and activities for your guests.
Play Pin the Worm on the Hook; Fish, Fish, Shark (like Duck, Duck, Goose game); decorate an Underwater Mural; or Gone Fishing (Before the party, decorate and cut fish shapes out of sturdy paper. Then attach one or two paper clips to the mouth of each fish. Place all fish shapes in a decorated box. Create a fishing rod out of a sturdy stick by attaching fishing line and tying a horseshoe magnet to it.) Fishing birthday party food can include goldfish crackers, going fishing cupcakes and sandwiches cut in fish shapes.
Visit www.treasureboxkids.com for children's clothing and ideas. Look through our archived blog posts for more activities, crafts, tips and birthday party ideas.