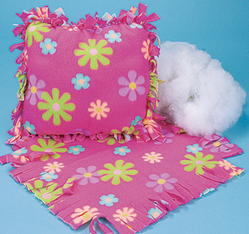 Easy Crafts
Tie pillows are easy crafts for children to make. Easy crafts, like these cuddly fleece pillows are inexpensive and fun to make. Your fleece pillow can be made from old fleece blankets or remnant fleece material. Materials needed to make your fleece pillow are fleece, scissors, a ruler, fabric chalk and fiberfill. No sew this fleece pillow by tying knots with fringe cut into the fleece edges.
You need two separate pieces of fabric for the pillow; one will be the front, one will be the back. You can choose two coordinating fabrics or the same fabric.
Lay your fleece with wrong sides together and edges matching up.
Use a ruler and chalk to mark out fringe at one inch intervals and 4 inches long.
Cut the fringe through both layers of fleece.
Tie double-knots close to fleece pillow edge by using one strip from the front and one strip from the back to create finished fringe edge. Continue around 3 sides of the pillow.
On the 4th side of the pillow, tie knots until only 4 pairs are untied.
Stuff the pillow form with fiberfill. Tie the remaining fringes. Brush off any chalk marks that still remain.
Visit www.treasureboxkids.com for children's clothing and more kids craft ideas. Be sure to look through our archived blog posts for more activities, crafts, tips and birthday party ideas.