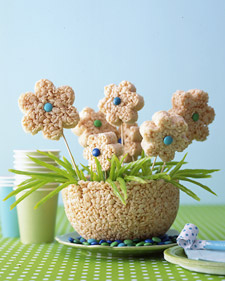 Hold a floral birthday for a springtime or outdoor birthday party. A floral birthday is simple and inexpensive to decorate and a wonderful opportunity for little girls to show off their beautiful floral birthday dresses. Make balloon flowers (see directions below) to decorate the party area. Use spring colors in the balloon flowers or those that match the birthday dresses.
Have the girls make tissue paper flowers as a craft activity. Cut out flower shapes from colorful construction paper to make flower decorations for the party area. Another fun craft for your floral birthday are edible daisies made from rice cereal treats mixture, a flower cookie cutter with a small candy in the center.
Visit www.treasureboxkids.com for children's clothing and ideas. Look through our archived blog posts for more activities, crafts, tips and birthday party ideas.
Balloon Flower Decorations
You will need 5 balloons of one color and 2 of another coordinating color to make these balloon flowers. Do not blow up the balloons fully to keep balloons flexible enough to twist and tie. To tie off balloons, pinch the necks with one hand; with the other hand, pull the neck of the balloon to stretch it, wrap it around 2 of your fingers, and pull the end through to make a knot.
For the petals, tie 2 of the inflated balloons together in one group. Tie the remaining 3 inflated balloons together in another group. Join the balloon clusters, push the pair into the set of 3 so the necks wrap around each other.. Lock the 2 clusters together by rotating the necks of the balloons around each other several times until secure.
For the center, inflate 2 balloons of a different color (do not fill completely) and tie them together. Insert the center balloons into the petal cluster. Arrange the petals around the centers, twisting balloons several times to lock them all together. Wrap nylon string around the center of the cluster several times, then pull one end of the string between 2 of the petals and cut off the other end.