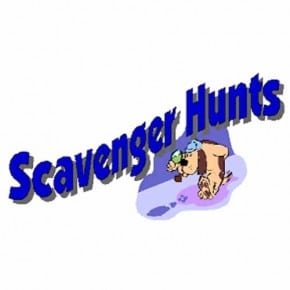 Stuck indoors, looking for kids activities, I've got some fun kids activities to keep the kids from bouncing off the walls. You may have exhausted your list of craft projects and already done our kids fun rainy day activities, yet the kids are still bored. Why not try an indoor scavenger hunt? Here are three fun indoor kids activities.

Kids Activities: Shape Scavenger Hunt
Scavenger hunts are fun kids activities and this is a great one for young children who are just learning about shapes. On a piece of paper, draw simple shapes such as a circle, triangle, or square. Have the kids search the house and find examples of these shapes in everyday items. Cabinet doors become squares and dinner plates become circles. For older kids, turn this scavenger hunt into a competition. See who can find the most circles, squares or triangles. Or make it even harder and have them look for octagons or diamonds. You can have an afternoon filled with fun indoor kids activities just by focusing on shapes.
Kids Activities: Indoor Treasure Hunt
Are you always searching for indoor kids activities for your pirate-loving children? A treasure hunt will take a little bit of work on your part, but your kids will have a lot of fun.  Start by making a list of clues to lead them to hiding places. For example: "It's hidden next to a dark, cool place where food awaits and water chills," would lead your child to to the refrigerator where they'll find another clue. This clue should lead them to another hiding spot in your house. After leading your kids through several clues, hide a small "treasure" at the end of the hunt such as a new box of crayons or a pack of stickers. The age of your kids will determine the difficulty of the clues as well as the number of clues you use.
Sensory Scavenger Hunt
Instead of specific items, have your kids search for attributes. For examples, ask your kids to find something soft, something shiny, something heavy or something fuzzy. This scavenger hunt should definitely get their creativity flowing. They may find a blanket that's soft, a doorknob that's shiny, or a bed that's heavy. Have fun listing the attributes and your kids will have fun searching.
Do you have any suggestions for fun indoor kids activities to do when the weather is bad?