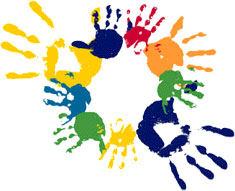 Handprint Crafts
When kids make handprint crafts they are creating precious heirlooms and memory makers. Handprint crafts are an inexpensive way to make personal gifts and decorations that give your child a real sense of pride. Baby handprint crafts are great for nursery décor and a wonderful way to preserve the growth of your little one. Create stepping stones, magnets, banners, and wall ornament baby handprint crafts to give as gifts or as keepsakes. The jeweled handprint craft is a great activity for a girls birthday party or as a young girl's room decoration.
Here is how to make this easy kids craft:
1. Trace and cut out a handprint, including the wrist and upper arm from a piece of poster board.
2. Make bands for rings and bracelets with markers, and glue on your jewels. Color on fancy fingernails and make your own unique designs.
Visit www.treasureboxkids.com for children's clothing and ideas. Be sure to look through our archived blog posts for more activities, crafts, tips and birthday party ideas.