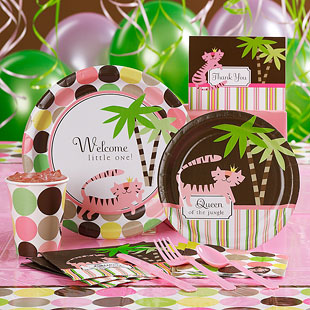 Jungle Baby Shower
A jungle baby shower is a colorful and playful idea for a boys or girls baby shower. Your jungle baby shower can be decorated with stuffed zoo animals like giraffes, lions, elephants and monkeys. Baby shower decorating is made easy with baby bottles full of animal crackers, lush greenery (silk house plants), safari hats, tiki torches, etc.
Another ideas for jungle baby shower decorating is to put diapers on stuffed animals, with plastic baby bottles hung from pink or blue ribbons. Popular jungle games for baby shower includes animal baby match where guest race to match each animal name with its proper baby name see the sample below:
1. BEAR a. poultry
2. CAT b. cygnet
3. CATTLE c. cub
4. CHICKEN d. piglet
5. DEER e. kit
6. DUCK f. duckling
7. ELEPHANT g. chick
8. FOX h. kitten
9. GOAT i. cub
10. HOG j. calf
11. KANGAROO k. fawn
12. LION l. calf
13. SHEEP m. kid
14. SWAN n. joey
15. TIGER o. lamb
16. TURKEY p. cub
17. WHALE q. calf
Visit www.treasureboxkids.com for adorable baby outfits or onesies. Treasure Box Kids offers outfits that make perfect baby shower presents. Look through our archived blog posts for more baby shower ideas, activities, crafts, tips and birthday party ideas.