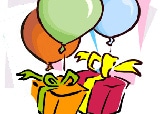 Toddler Birthday Games
Toddler birthday games are great for burning excess energy and encouraging social interactions between children at your child's birthday party. Your toddler birthday games should not only be easy to play, but safe as well. A good safety rule is to make sure that your prizes or party favors do not fit through a paper towel tube in order to prevent choking hazards.
Classic Toddler Birthday Games
Pin the tail on the donkey games are versatile because you can modify the pairings by the theme of your party: frog on the lilly pad, slipper on the ballerina, car on the finish line and so on. Instead of a pin, use tape on the back of each object to be "pinned" to the poster. The child who pins their object closest to the target is the winner.
Playing a "freeze" dance game is sure to remove some of that excess party energy. Play a lively children's song and have all the children dance. When you stop the music and yell "freeze" everyone must stop dancing and freeze in that position until you say "unfreeze." Start the music again and repeat.
Other Toddler Birthday Games Ideas
Let the children have a birthday party parade with musical instruments, streamers, ribbons, stuffed animals or whatever relates to the birthday party theme.
Active games like Hokey Pokey, Ring Around the Rosy, or just letting the children dance freestyle really keep children entertained. Blowing bubbles or holding coloring contests with theme inspired coloring pages are also great activities.
See our next birthday blog post to learn about birthday icebreaker games. Visit www.treasureboxkids.com for children's clothing and special outfits. Look through our archived blog posts for craft ideas, Toddler Birthday Games ideas, baby shower tips, children's clothing tips and kid's activities.