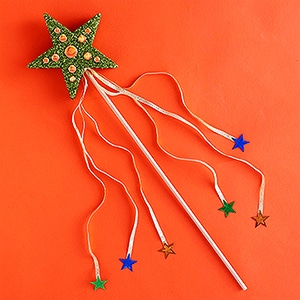 How to Make a Magic Wand
How to make a magic wand from a few simple materials?  Learn how to make a magic wand with these easy instructions. Your fairy princess will love this magic wand for her playtime activities.
Magic Wand Materials:
Foam Star, Dowel, gold ribbon, glitter, glue, peel-and-stick rhinestones or jewels
Directions For Making A Magic Wand:
Use a pencil to poke a hole in the bottom of a six-inch plastic foam star. Insert a generous amount of glue into the hole and then insert a wood dowel. Cover the star with a generous amount of crafts glue and help your child sprinkle glitter onto the front and back of the star. Place the wand in a heavy glass jar to let the top dry.
Decorate by using peel-and-stick sparkly rhinestones and pretty jewels to stick on the star. To finish, cut gold ribbon into three 1-yard pieces, tying the pieces together with a knot at the center. Glue the knot to the bottom of the star and trim the ribbons to different lengths. Add peel-and-stick jewels to the ends of the ribbons, and you've just made a beautiful magic wand!
Visit www.treasureboxkids.com for children's clothing and birthday and special occasion dresses. Be sure to look through our archived blog posts for more activities, crafts, tips and birthday party ideas.
Have fun making this magic wand for your fairy princess.  Have you and your child ever made wizard wands in the past? How did our magic wand instructions compare to the ones you worked with before?