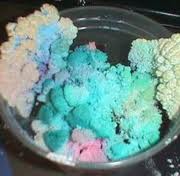 Kids Fun: Rainy Day Activities
We receive a lot of inquiries about things to do as a rainy day kids fun activity. When I was younger my mother purchased me a kid's craft book. I remember it clearly. There was a sock puppet on the cover and the entire book was filled with children's crafts (as opposed to adult's crafts that kids can help with). This thing had everything in it: how to make kites, sock puppets (of course), origami, how to grow a crystal garden out of sugars and salts—I mean, EVERYTHING. If we were ever treated to a rainy day my mother would pull the book out and she and I would find something in it to make. We went through a lot of projects together using that book—I wish I still had it to share with my kids. My favorite, however, was the crystal garden. If you're looking for one of those kids fun projects that you can start on a rainy day and keep up over time, I absolutely recommend the crystal garden.
Kids Fun: Crystal Garden
All you need to get started is:
• ¼ cup ammonia
• ¼ cup non-iodized salt
• ¼ cup water
• ¼ cup liquid bluing (they sell Mrs. Stewarts at most grocery stores and Wal-Mart in the detergent section)
• A few pieces of sponge or charcoal
• Food coloring
Find a glass or see-through dish and place the charcoal or sponge on it in any formation or arrangement you want. Take all of the other ingredients except food coloring and mix together. Once they are thoroughly mixed pour over the dish. Drop food coloring on the dish in whatever pattern you like and wait for crystals to appear. This will usually happen overnight. My mother and I would keep adding to our garden a little at a time.
This one of those kids fun projects that is great for a rainy day. It's fun, it's messy, and it's educational. What could be better? Sure, you can buy grow your own crystal kits in stores (and I'm sure they turn out a heck of a lot prettier), but in a pinch…you can always make your own rainy day crystal garden.
For other kids fun ideas on crafts for a rainy day see our post on How to Make a Magic Wand.