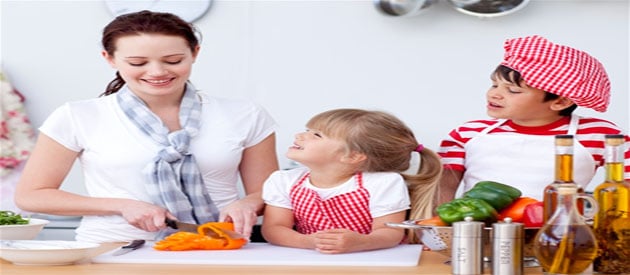 More Ideas for Kids Fun–Cooking with Mom

Kids fun ideas, especially at an early age, have a lot to do with home and hearth.  Baking cookies, making decorations, or just reading with Mom were such special times.  I try to include my kids somehow in whatever activity I am doing around the house.  I bought special slip on socks that they can skate down the hallway wearing to help dust the hardwood floors.  I have step stools so they can help me cook, and, of course, I keep a book of fairy tales by my own bedside in case they want to cuddle up with me on a rainy day.  One of the best kids activities that I've found is simply cooking.  Kids enjoy being a part of food preparation—and who can blame them?  It's relaxing, tasty, and the smells stay with you for a lifetime.  As fall approaches there are limitless ideas for what can be made together in the kitchen.  One idea that I recently found online is making "apple" lollipops that they can take to school to give to their teachers and classmates.
This will require a tiny bit of prep shopping at a store that sells candy making supplies.  Believe it or not,  I've found everything I need for this at Wal-Mart and Target so you don't need to trek to a bakery shop for supplies.  Unless you really want to, of course.
Kids Fun: Apple Lollypops
You will need:
Lollipop sticks, dipsticks, or thin straws
Red candy coating (this can be red melt-able candy wafers or you can use almond bark and red food coloring)
Chocolate cake mix
Chocolate icing
Green fruit rollups
Pretzel sticks
The first step is just to make and bake the cake according to the package directions.  Once the cake has been cooled break it up in a large bowl and mix in the chocolate frosting.  Bring the kids in at this point to help you "shape" the apples.  This is the epitome of kids fun!  They get to put their hands into a gooey chocolate mixture and form tiny apples from it.  Have them place the "apples" on a sheet of wax paper while you heat up the red candy coating in a bowl using your microwave.
Step two is just taking the lollipop sticks and sticking them into the "apples" and then dipping the apples in the red candy coating.  When you place them on the wax paper to dry the tops will flatten slightly like a Macintosh apple.
When the candy coating is almost dry, allow your children to break off bits of the green fruit rollups to make leaves to place on the top and use a pretzel stick for the stem.
I promise you, not only is this one of those easy kids activities to do with the kids, but they will enjoy both sharing and eating them with their classmates.  It's a tasty alternative to the apple on the desk routine we used to do.
I'd love to hear your idea for cake pops—I'm sure a Halloween pumpkin could be done the same way.  Till next time, I hope you enjoyed this tiny example of simple kids fun.