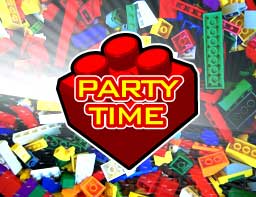 LEGO Birthday
Hold a LEGO Birthday for a fun-filled birthday party idea. A LEGO birthday works for children of any age and any gender. Younger children should use the larger LEGO pieces to keep the party safe. A jar filled with LEGO pieces makes for a simple activity prize.
Make a LEGO birthday cake by dividing the batter between square/rectangle pans and cupcake tins. Mount the cupcakes upside down on the square/rectangle pieces to create LEGO "studs" (the connecting bumps on Lego pieces). Frost with brightly colored frosting similar to LEGO pieces.
The Lego birthday party wouldn't be complete without activities, so have guests build a sky-high Lego tower. Give each child a small pile of LEGO bricks and have them sit in a circle on the floor. Put one brick in the middle. Going around the circle, have each child add one piece from their pile to the top of the growing tower. The trick is to see how high they can build it before it topples over.
Visit www.treasureboxkids.com for children's clothing and ideas. Be sure to look through our archived blog posts for more activities, fun kids crafts, tips and birthday party ideas.