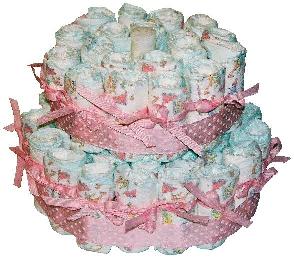 Make a Diaper Cake
Need to make a diaper cake? Make a diaper cake as a centerpiece with lasting value for the mother-to-be. To make a diaper cake is a wonderfully creative gift for an expectant mother. It is a collection of diapers (either disposable or cloth) rolled and stacked together to resemble a traditional tiered cake. The tiers of diaper cakes are also garnished with baby care items such as bibs, pacifiers, baby socks, bottles, toys, and often wrapped in ribbon. How to make a diaper cake? First let's start with the "ingredients."
Diapers – either cloth or disposable; depending what the expectant mother would like. Use one large box of diapers to create as many tiers as you would like.
Wide Ribbon – patterned to fit the baby shower theme. Pink, blue, or yellow are good choices.
¼ inch Ribbon – to tie rolled diapers with.
Cake Platter
Large Baby Bottle or Bottle of Lotion
Baby Items – Pacifiers, bottles, lotion, bibs, receiving blankets, miniature stuffed animals, baby towels, onesies, wash cloths, toys, etc.
How to make a diaper cake:
Unfold and tightly roll 17 newborn diapers, starting from the front and rolling to the back of the diaper and put a rubber band around each diaper.
Take the cake platter and place the 8-oz baby bottle or large bottle of baby lotion in the center. Then place about 5-6 diapers around the bottle and put a large rubber band around the entire ring of diapers.
Form a 2nd ring around the first ring with the remaining 11-12 diapers. Place a large rubber band around the 2nd ring of diapers.
For the final ring of first tier diapers: take 18-20 diapers, roll them up tight like before, but instead of a rubber band around each one, tie a thin, 1/4 inch piece of ribbon around the middle around each one. Then place them around the second ring to form a 3rd ring. Take a wide ribbon and tie it around the entire tier to hold them all together in a circle shape.
The next tier is made much like the first, except that instead of 3 rings of diapers you will only use 2 rings. Part of the bottle will be sticking out of the 1st tier, so place your 5-6 diapers around it to form the 1st ring of the 2nd tier. The 2nd ring will need 11-12 diapers. Use ¼ inch ribbon around each one of those 2nd ring diapers and hold them all together in a circle with the wide ribbon like before.
It is probably easiest to assemble the third tier on a table and then place it on the rest of the cake after it is assembled. Take a 4-oz bottle and place it on the table,
then take 5-6 diapers and roll them up like before and tie them with the ¼" ribbon. Place the diapers around the baby bottle and tie your wide ribbon around it to hold it together tightly. Take the top tier and place it on top of the other two layers.
Place baby shower decorations on the diaper cake by adding items like onesies, baby towels, wash cloths, bottles, bibs, receiving blankets, stuffed animals – tucking them into the diaper folds and outer layer of ribbon.
Visit www.treasureboxkids.com for adorable baby outfits or onesies and more baby shower ideas. Be sure to look through our archived blog posts for more activities, crafts, tips and birthday party ideas.