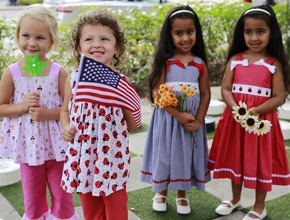 Talented Orlando kids model  an assortment of  the Treasure Box Kids Made in the USA line on May 21st, during our Birthday Party and Capri Set themed photoshoot. Treasure Box Kids chose the Winter Park Village for its photoshoot location. The models were given a variety of props to set the perfect scene. Each model, in their carefully handcrafted style, had their close ups in front of the camera.  Take a look at our TBK Fashion Show-Behind the Scenes for another look at some of the featured dresses that were worn at the photoshoot.
Orlando Kids Model at Winter Park Village
We chose the Winter Park Village for our  monthly photoshoot due to the playful atmosphere and Regal Cinemas for their decorative party room. The girls were styled and photographed outside in the courtyard where the they played with a life-size chessboard and also in the Regal Cinema's party room.
Amid all the  inevitable excitement from our models, there is much to be done the morning of a photoshoot. Tasks not limited to, getting all the dresses steamed to perfection, making sure that all the needed props are in order and entertaining for the girls. Most importantly making sure our TBK models are taken care of and ready for their time to shine. After arriving, models were immediately styled and ready for their close up.  Our Treasure Box Kids interns assisted with steaming the garments and dressing the models as well as assiting the photographer. After a morning filled with giggles, excitement and laughs the photoshoot was wrapped up and a huge success.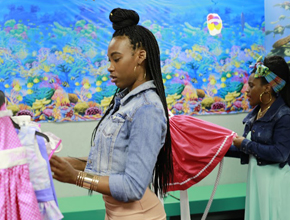 Treasure Box Kids thoroughly enjoyed working with the mothers and their daughters during this photoshoot. A huge thank you to them for their participation and awesome cooperation throughout the shoot.   
On the Lookout: Orlando Kids Model for Treasure Box  Kids
Treasure Box Kids will be having monthly photoshoot and fashion shows one Saturday a month and are looking for fresh new faces to showcase our fashions. We would love to have the opportunity to work with more young models and will be posting information about casting calls soon. If you would like further information to be directly emailed to you, please email us at contactus@treasureboxkids.com.
Open to diversity, TBK wants to see every kind of fashionista in our clothing. If you are interested in your child participating in our future shoots or fashion shows, we will keep you updated on when and how to be involved. We enjoy seeing our Orlando kids model so be sure to stay tuned to our various social media channels for updates on future modeling opportunities!