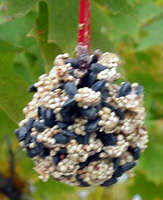 Nature Crafts
Nature crafts are simple activities that connect children to the natural world. Nature crafts make great seasonal craft activities. Winter is the perfect time to help birds make it through the cold season and easy kids crafts can help.
Putting out a pine cone bird feeder is a fun way to enjoy wild birds while providing a source of protein for them. Pine cone bird feeders are easy kids crafts that even young children can help make.
Visit www.treasureboxkids.com for children's clothing and ideas. Be sure to look through our archived blog posts for more activities, crafts, tips and birthday party ideas.
What you need:
Pine cone
String
Peanut Butter
Bird Seed
How to make a pine cone bird feeder:
Tie a piece of string around a pine cone.
Cover the pine cone in peanut butter.
Roll the pine cone in the birdseed.
Hang the bird feeder outside and wait for the birds to come.