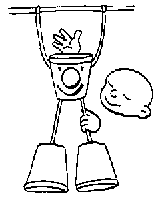 Puppet Making
Introduce your child to puppet making as a fun way to encourage their imagination. Younger children can begin their introduction to puppet making with simple string puppets such as cup marionettes. Before television string puppets were often used as interactive teaching methods to convey concepts to children.
This craft project is an inexpensive idea that can be used later as a rainy day or play date activity. Visit www.treasureboxkids.com for children's clothing and ideas. Be sure to look through our archived blog posts for more activities, fun kids crafts, tips and birthday party ideas. Here are the directions to make this simple cup string puppet:
What you need for this craft project:
·    3 cups
·    4 lengths of string or yarn
·    Control stick – old ruler, twig from outdoors, curtain rod, etc.
Decorating materials: wiggle eyes, markers, glitter glue, sequins, stickers, pom poms, etc
How to make the string puppet:
1.    Head cup: poke holes ¼" from the top edge of a cup. Run one string through the inside of the cup as shown.
2.    Feet cups: attach one string to the inside of each of the 2 feet cups as shown.
3.    Tie the strings from the head cup to the control stick. Poke 2 holes in the bottom of the head cup to attach the feet cups to.