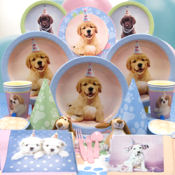 Puppy Birthday Party
Toddlers love a puppy birthday party. You can base a puppy birthday party around your child's favorite dog or the characters Clifford, Scooby Doo or 101 Dalmations. Hold your puppy party in the early afternoon when your toddler will be at their best. Many inexpensive decorations for your puppy party can be found at your local discount and dollar stores. Decorate a "dog house" from boxes or poster board and take pictures of each guest as a souvenir.
Visit www.treasureboxkids.com for adorable outfits for your toddler to wear at their puppy birthday party. Look through our archived blog posts for more kids birthday party ideas, children's clothing and kid's activities.
Decorations
Cut out paw prints from black or brightly colored paper to mount on walls
Decorate with red balloons and streamers or black and white if the puppy party is Dalmation-themed
Red table cloth decorated with dog bone or paw print shaped stamps
Dog bowls full of snacks
Activities
Search for lost puppies – hide toy puppies around the house or yard for the children to find
Paw print cupcake station – use thin mints for paw pad and junior mints for the toes
Barking the happy birthday song
Make a felt dog collar
Solve a Scooby Doo mystery