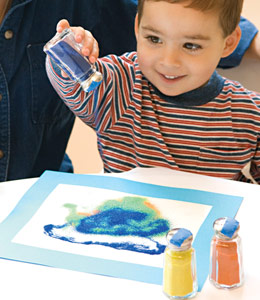 Kids Art Projects
Use colored sand for kids art projects. Kids art projects made with colored sand open a whole new avenue of expression. Sand art is the creation of images, pictures, or designs in a bottle or even boxed glass frames made from different colors of sand. Sand art images, pictures, and designs are made using colored sand and a simple funnel. Children can make sand art pictures using colored sand in salt shakers to control the spread of the granules coming out of the bottle.
To make this kids art project:
1. Use a craft knife to create a frame by cutting out the center of colored card stock or construction paper, leaving a 1-inch border.
2. Trim Contact paper so that it's slightly smaller than the frame, then set the Contact paper face down and peel off the backing. Carefully lay the frame over the sticky surface and press it in place.
3. Pour the sand into the salt shakers, then put on the lids and cover some of the holes with tape. Give your child the bottles and let him or her pour the sand over the sticky surface. Dump off the extra sand as the space gets filled. When it is done, you can set a piece of clear Contact paper over the front to help preserve the design of this kids art project.
Visit www.treasureboxkids.com for children's clothing and more kids craft ideas. Be sure to look through our archived blog posts for more activities, crafts, tips and birthday party ideas.