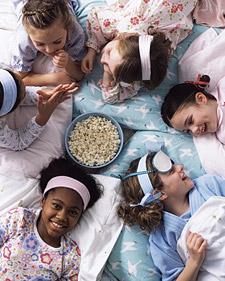 Sleepover Birthday
Girls love a sleepover birthday. At this sleepover birthday go beyond movies, munchies and staying up all night, with this fun-filled sleepover party for girls ages 8-12. When you combine pajamas, facials and manicures the sleepover becomes a spa birthday party. Be sure to designate a large space in your home for your spa birthday party, by arranging furniture and other items.
Provide several floor pillows, couch cushions and blankets for a comfortable space for the girls to hang out. Hang twinkle light strands around the party area. Decorate the birthday table like a bed using a twin sheet and a pillow at the head and spread confetti stars on the top of the sheet. Make sure that guests bring pajamas, sleeping bags and a pillow to the sleepover birthday. Simple spa treatments like manicures and facial masks make wonderful activities for the little beauty queens.
A fun craft for the beauty queens to take home is an adorable sleep mask. Visit www.treasureboxkids.com for children's clothing and ideas. Look through our archived blog posts for more activities, crafts, tips and birthday party ideas.
Sleep Mask:
Create a template to trace onto craft felt. Punch holes in the sides of the felt to attach mask ribbons.
Facial Mask:
For one girl's face mask, mash a quarter of an avocado in a bowl, then stir in one tablespoon of yogurt. Apply fixture to the face with a sponge, avoiding the eyes. Place a cucumber slice over each closed eye. Wash off facial mask after 15 minutes.
Manicure Station:
Light colored and sparkled nailpolish works for little manicures. Mom can create a little appointment book for guests. A bowl of soapy water to soak little hands is a great touch.