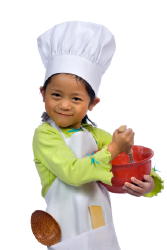 Snack Time
After school snack time will give kids more energy in the afternoon to concentrate on homework. Snack time is an important part of each day, giving children more energy to play outside instead of flopping down in front of the television. Skip the prepackaged items and take a few minutes to make easy snacks from scratch. Easy snacks do not have to be equated with junk food. Kids love to turn an eating occasion into an interactive experience.
Take the opportunity to cook together with your child these simple peanut butter granola bars. When you and your child cook together to make their own snacks you will begin to instill an interest in cooking that may help them to make healthy eating choices. Visit www.treasureboxkids.com for children's clothing and ideas. Be sure to look through our archived blog posts for more activities, fun kids crafts, tips and birthday party ideas.
Ingredients:
1 large egg white
½ cup old-fashioned oats
½ cup dried cranberries
½ cup sliced almonds
¼ tsp salt
½ cup peanut butter
½ cup light brown sugar
3 tablespoons oil
½ tsp ground cinnamon
Directions:
Preheat oven to 300 degrees. Line an 8" square baking pan with 2 crisscrossed rectangles of parchment paper, leaving a 2" overhang at 2 opposite ends. In a large bowl, combine oats, almonds and cranberries.
In a small saucepan, whisk together oil, brown sugar, peanut butter, cinnamon, salt and 1 tablespoon of water over low heat until sugar dissolves (about 5 minutes). Let cool slightly; whisk in egg white. Pour over oat mixture; stir until moistened. Spread evenly in bottom of pan; smooth the top of the mixture.
Bake for 30 minutes or until top is firm. Let cool 10 minutes. Lift out of pan using paper handles. Let cool completely. Cut into bars.