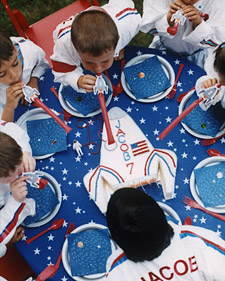 Space Birthday
Take your son's space birthday out of this world! He and his space birthday guests can explore strange new worlds or visit planets in our own solar system. Decorate the space birthday with black fabric on the walls and furniture. Use glow in the dark stars or make your own from card stock wrapped in tin foil. Make planets from paper mache, craft foam or Styrofoam balls.
Hang stars, planets and white twinkling lights from the ceiling with fishing line as space themed decorations. Younger astronauts can have Disney's Buzz Lightyear visit their space themed party. Astronaut games and activities can include a Moon Rock Relay, Saturn's Rings toss, or Asteroid Belt. Visit www.treasureboxkids.com for children's clothing and ideas. Look through our archived blog posts for more activities, crafts, tips and birthday party ideas.
Moon Rock Relay: Before the party, cut or tear several pieces of foam padding (egg crate, mattress pad foam or craft foam). Divide the children into teams. Give each team a pile of "moon rocks" and a set of kitchen tongs. Pace a bucket for each team at the finish line. The object of the game is to be the first team to transport all of the moon rocks from the pile to the bucket using only the tongs (astronaut robot arm). The first racer will pick up a rock, run to the bucket return to his team and pass the tongs to the next player until all of the moon rocks have been moved.
Saturn's Rings Toss: You will need a hula hoop and bean bags. Mark an "x" with tape on the ground or floor. Have 2 helpers hold the hula hoop a reasonable distance from the "x". The players take turns trying to toss the bean bag planets through the ring.
Asteroid Belt: A great indoor game for younger children. Before the party inflate several balloons. When it is time to play have the children form a circle. Toss the asteroids (balloons) in the air and the children have to keep the asteroids from hitting the earth.