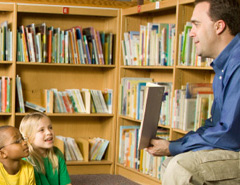 Storytime
Increase reading fluency with storytime. During storytime parents get to play a critical role in helping their children develop not only the ability to read, but also an enjoyment of reading. Toddlers listen to and gain information from short stories and rhymes, thereby increasing their vocabulary about everyday events people and things. Toddlers learn interactive reading by pointing to pictures in favorites books that they have chosen.
During interactive reading with young children the child will often look through the book as if they are actually reading, holding the book right side up and turning the pages from front to back. As the child moves to read aloud books, share the activity by first reading one page and letting the child read the next. Patience is the key for read aloud books. At this stage your child is learning to be able to read the text accurately as well as understanding what has been read. Pause at the end of a page. Ask questions or comment on what has been read in order to build these skills. Reading can be a fun and imaginative activity for children that opens doors to countless new worlds for them.
Visit www.treasureboxkids.com for children's clothing and ideas. Be sure to look through our archived blog posts for more activities, fun kids crafts, tips and birthday party ideas.