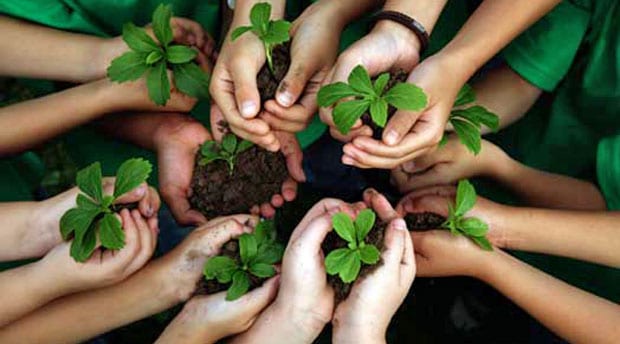 It's vital to know that teaching kids sustainability is important on the international stage. By implication, it's important in the national and provincial arenas too. The next generations are the key to sustainability. Their education on sustainability is crucial for the development of sustainable planet. So, what can we do for kids? Kids love fun. Kids love outings. We can make teaching kids sustainability fun, especially easy to do while on outings. You can do some preparation by reading books, pamphlets, and internet articles from reliable sources. To learn ways that you can volunteer with your family to create teachable moments you can look at our post- Three Volunteering Activities for the Whole Family.
Teaching Kids Sustainability: Through Nature
Information gleaned about the natural world and sustainability can provide a basis for teaching kids sustainability. The experience of the natural world, seeing the natural world, smelling the air and the dirt, seeing the integration of communities into nature and vice versa, and seeing the places that living beings thrive.
You can go to a local park and examine some of the flora and fauna of the area. Even with this taking a bit of time to catalog things in the local area, you can seem like a demi-god with the level of knowledge about the natural world with the kids. You can involve other parents, other kids, and make it a community event. These are the ties that bind.
Education, fun, and sustainability can be 'part and parcel' of that as well. Some of the practical principles for a wide variety of outings: know your stuff, know the area, know the plants, have an itinerary, bring snacks, take into account the limitations of children's attention span, try to involve other kids and parents, involve community, and do multiple events at different areas throughout the local region.
Teaching Kids Sustainability: In Your Home
How does this look in a practical sense? Well, you can take the kids out even into your own garden. You can teach them about cold composting. You can teach them about the quicker hot composting. You can even teach them about those gross little red wiggler worms that assist in making the composting happen faster.
You can take them to a neighbors, or a community, garden to learn about plants and their lifecycles. Maybe, you can even start a community garden. Some of the prior practical principles can be part of this. It's all in fun. It's all for the kids. In addition, you might gain a little bit out of it too.
For instance, you can learn a little more, have fun with the kids, and take advantage of the incredible natural resources that Canada and North America in general have to offer us. And you can do it with the respect and sustainable intent that is required for not only our own but the next generations.
And don't forget, have fun while teaching kids sustainability!