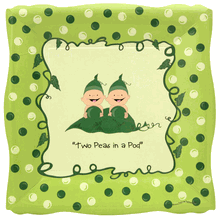 Two Peas in a Pod
Expecting twins? A Two Peas in a Pod theme is a perfect for twins baby shower. Parents expecting twins need twice as much of everything, and a Two Peas in a Pod shower will provide the way to throw that extra special baby shower for them. At least 3% of U.S. births are twins each year and the number is reported to be growing. When you plan a baby shower for twins remember to think in pairs. Guests will be buying pairs of onesies, pairs of receiving blankets, pairs of matching outfits, and so on.
Twins Baby Shower Ideas
Advice Book – leave a keepsake journal available for guests to write advice for the new mother.
Distraction game– For this game you will need a timer, clothesline, phone, baby doll, baby clothes and clothes pins. Take turns timing each guest on how quickly they can string up a certain amount of clothing on a clothesline. The trick comes when they have to have a phone on one ear. The bigger the phone the better. In the other hand they have to hold a baby doll. This is great practice for the mother to be…since both of her hands will be full with twins.
Double Food – Double mint gum, double-decker sandwiches, twin pops, etc.
Peas in a Pod – Purchase retail versions of peas in a pod items or make your own.
Visit www.treasureboxkids.com for adorable baby outfits or onesies. Look through our archived blog posts for more baby shower ideas.