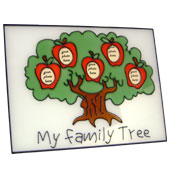 Memory Mobile
Making a memory mobile is a fun and educational family craft. A memory mobile can display family pictures, helping children to understand their family relations and where they fit in the family. Your family tree is the basis for your memory mobile, therefore the mobile can be as large as the information you have on hand.
Further research of your family tree will help the whole family discover if their last name is based on a profession, or if the family name has changed when ancestors came to this country. The memory mobile can be used to display your family history, a special family vacation or other special family event.
Materials:
Colored poster board or construction paper, one color for each branch of the tree
Individual photos of family members
Twigs or dowels: One 10", one 16", two 8", and four 5"
String
Glue
Memory Mobile Instructions:
Cut a 3" square of one color, two 2.5" squares of another color, four 2.5" squares of another color and eight 2" squares of the last color.
Cut photos of family members a half inch smaller than the colored squares. Center the photos and glue in place.
Poke a small hole 1/8" from the top and bottom of each square.
Lay out twigs/dowels in rows, largest to smallest
Position the photo squares with mom's side of the family on one side and dad's on the other. Arrange each couple with the men and women each on their own side.
Cut 22, 6" long pieces of string. Thread one piece through each of the holes in the photo squares. Tie to the twigs above and below each square. Hold up the mobile and adjust the photos until it balances.
Visit www.treasureboxkids.com for children's clothing and ideas. Be sure to look through our archived blog posts for more activities, crafts, tips and birthday party ideas.